Mission Statement
We will apply our experience, knowledge and skills to the best of our ability to ensure our customers get the best service possible.
We will strive to maintain the highest principles of moral, ethical and legal conduct.
We will make our customers' health our priority.
"Providing excellent patient care is the main priority here at Lloyd's Pharmacy."

James Stage
History, Services and Team
The first drug store in Hamline, Minnesota opened in 1918 as Florian's Pharmacy. In 1949 Lloyd Jensen purchased Florian's Pharmacy and changed the name to Lloyd's Pharmacy. Current owner Ron Johnson purchased the store in 1975 and kept the name. We are now nearing 100 years of service.
Our Staff:
Our staff provides professional service and personal attention.
Pharmacists:
Alison C, Pharm. D, RPh
Jim S, Pharm. D, RPh
Krista S, RPh
Tracy T, RPh
Mark S, Pharm. D RPh
Technicians:
Ajay U, Tech
Bridget S, Tech
Connie O, Tech
John P, CPhT
Kristin W, Tech
Nicki B, CPhT
Pam B, CPhT
Shannon E, Tech
Stuart R, Tech
Bao Y, Tech
Chris S, Tech
Clerks:
Angela
Jill
Melissa
Alexandra
Emma
Sarah
Tasia
Elena
Drivers:
Our Services:
Prescription compounding
Prescription deliveries *
Prescription mail-outs *
Blister packs *
OTC medications
Comprehensive selection of vitamins
Diabetic supplies
First Aid supplies
Medicare Billing
Convenient on-site parking
One-on-one Pharmacist consultations
Free blood pressure reading
Friendly and helpful staff
Phone, Online and Mobile refills
We accept most insurances as well as workers compensation
End of year prescriptions statements for taxes
Greeting Cards
RefillRx Mobile App
Vaccinations
Automatic Refills
Immunizations
Medicare Part D Consulting
Unit Dose Packaging
Vitamins
Prescription Refills
Assisted Living Facilities
Prescription Shipping
Compounding
Pet Compounding
* Additional fees may apply
Blister Packs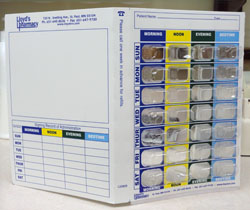 Are you having trouble remembering to take your medication? Perhaps an elderly relative needs help managing their prescriptions. Our blister packs might be the solution for you.
Using color and shape to distinguish one medication from another is a common practice used by many adults. This may work if a person only takes one or two pills each day but when taking multiple prescriptions at different times of the day, this can quickly become complicated, especially when the pills or prescription change.
We can package your medications into a convenient weekly blister pack that will help you take the right pill(s) at the right time. This is an inexpensive and dependable way to make sure you or your loved ones are staying compliant with their prescriptions.
Please call us if you are interested or have any questions. Our pharmacists would be happy to work with you.